Create you own Full Color designs with AutoPlus Electronically Imaged forms
If you use an advertising agency, a graphic designer, or if you are skilled in graphics then you can create your own window sticker artwork and designs. Below are the two primary data layouts around which you can create your artwork. Artwork can be created using graphics editing software like CorelDRAW, Adobe Photoshop, PaintShop Pro, Adobe Pagemaker, and many others. Full-color photos, logos, watermarks and text can be included in your design. You have complete design control so be creative!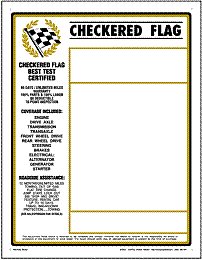 AutoPlus Peel-off #2 data layout - click on image for a large view
We produce these new FULL-color forms using a commercial electronic imager (similar to a color laser printer). This new printer uses resin-based inks. These new forms are great for use with ink jet printers (like the excellent Epson Workforce 30), solid ink color printers, dot-matrix printers and other low temperature printers. Conventional laser printers can potentially cause problems since their high-temperature fusers may partially melt the resin inks on these forms. While some customers have used laser printers with these new forms, it is NOT recommended. You should determine the suitability of your laser printer before using these new resin-ink forms. Generally, our offset forms should be used with laser printers.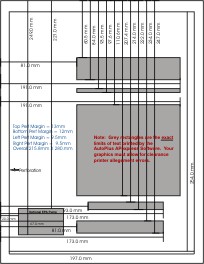 AutoPlus Peel-off #1 data layout - click on image for a large view
The gray areas are the spaces occupied by the vehicle data. You should allow a minimum of 3 to 4 mm of space around the data fields to permit printer positioning. Printer indexing errors are usually on the order of + - 1 mm. Most printers will produce similar results but it is always a good idea to test your layout on your own printer using the AutoPlus Express software. This will confirm the placement of your artwork.
Send us your artwork as a 300 dpi or 600 dpi 8.5x11 inch image. While we can accept a variety of file formats, we recommend that you provide your file as a standard RGB color .jpg file with a low compression factor. This will avoid format and version conflicts in our production department.